Cycling home from Slovenian coast. First time 200+ km.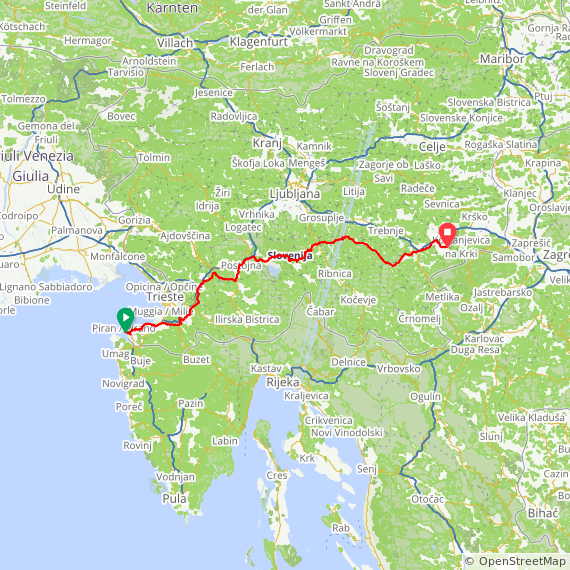 Year 2020. It started out remarkably. On the third day my son was born, we were renovating the house, I changed my photo equipment. bought a new camera and everything went smoothly. Well then, this global pandemic took over the world and we start working from home, nesting with the family and avoiding contacts.

During the lockdown, I trained indoor a lot and I wondered if there would be any chance at all to go somewhere further by bike this year. We haven't planned anything for this year. In the summer, however, there was one opportunity to go to the Slovenian coast for a few days. Of course we immediately decided to go. A few days earlier I got this idea to ride home.

This time I took advantage of my learnt lessons from 2019. I packed minimal for this one but I wasn't sure about my knee because I never cycled for more than 4 hours after my
knee failure
so this was something I wasn't sure about.
I took the essentials for the day trip and left Portoroz around 5:30 in the morning.
After the first 30 kilometers, one of the larger ascents with an exceptional view of the Crni Kal viaduct was already waiting for me. The route continued across the landscape near Cernotice and there it looked like in some green African steppe.

The next interesting segment was the route from Laze to Slavina with a great gravel part through the woods. I had my first stop in Postojna then continued my way past Rakov Skocjan. Here the route was again entirely gravel.

I only took time for coffee at Blosko Jezero, and I planned lunch in the town of Krka, which I reached past Rasica and Hocevje. Luckily, no bears were seen. Oh, and no words needed about the weather.

The last segment of the route was more flat towards home and I felt great. The knee worked, I had no problems and even achieved some PB's.

To sum up, it was my best all-day ride to date and I was really happy that everything was ok with my knee and overall with my body, for which I am especially grateful to
Niko Korber
, who obviously did his job more than perfectly. And the next day I recovered really good, which is also the result of proper hydration and nutrition throughout the day.
A short video made from Instagram stories: